In April 2022, Fenix's new
GL19R TACTICAL LIGHT
was launched, which integrates 1200 lumen high brightness, fast disassembly and assembly, wide adaptation, Type-C charging and other features. Among them, the Type-C interface not only allows GL19R to charge at any time, but also is compatible with the wire control switch-
Fenix AER-06s
!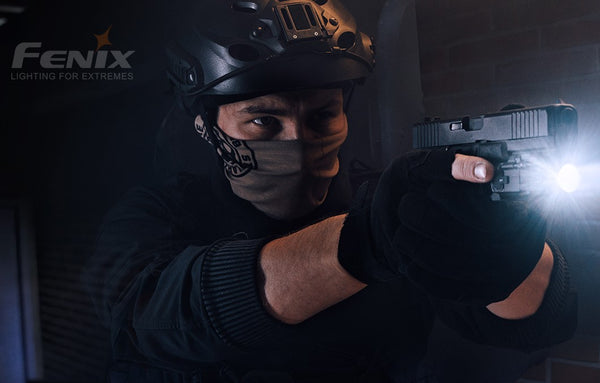 Small stature, big energy
The size of Fenix GL19R is 77.3 × 34.2 × 30.2 mm. The weight of the product with battery is only 100 grams. The pocket-sized size matches the weapon just right. With the brightness of 1200 lumens and the range of 210 meters, it is a sharp weapon in the dark. It can illuminate the darkness in an instant while doing a good job of weapon concealment. Let the target have no place to hide.
With TYPE-C direct charging interface, it is convenient to charge at any time and compatible with wire control switch, so the use mode is more diversified.
Patented quick disassembly, 3 seconds in place
Fenix GL19R is compatible with Glock rail and Picatinny (1913) rail equipment, and the rail mounting structure is still stable after 10000 vibration shock tests and 5000 rounds of simulated live ammunition target tests. At the same time, GL19R also has a patent for quick disassembly, which can be installed in place in 3 seconds after ensuring that the weapon has been unloaded and opened.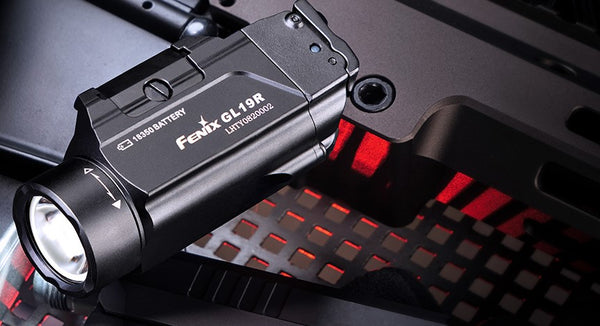 Double control switch, flexible control of left and right hands
The tail dual-control switch can be operated independently by both left and right hands. It can flexibly provide instantaneous lighting and constant lighting functions when performing tasks. During the non-task period, when the machine is turned off, the switches on both sides can be pressed for 5 seconds to achieve safe locking. When carrying, there is no need to worry about accidental lighting of tactical lights and exposure of vision.
Flash with one key, instantly suppress the field of vision
In the boot state, press any switch for 0.5 seconds to open the one-button flash mode, 1200 lumens of flash suppression, so that the target is temporarily dazzled and disoriented, quickly grasp the initiative, and take advantage of the low-light tactics.
Every time you turn it on, the power indicator will light up for 3 seconds to show the power, so that you can have a good idea of how to deal with more tasks and challenges, and if you don't need the power indicator function, you can turn it off.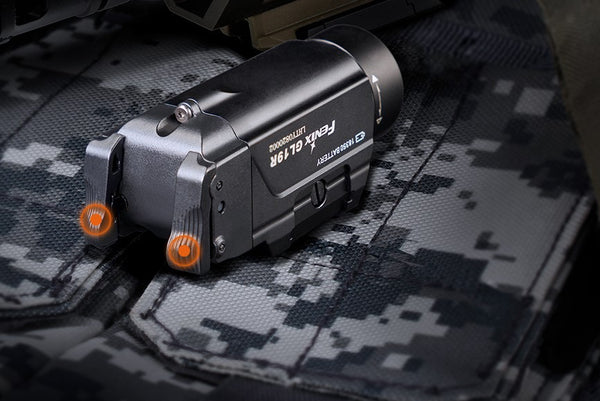 Professional performance, born for harsh environment
Fenix GL19R has an intelligent protection circuit board, which has six protection functions of overcurrent protection, overdischarge protection, overcharge protection, overvoltage protection, short circuit protection and high temperature charge protection. In addition, a high-performance power battery is equipped as standard, which makes it safer and more stable in tactical use.
At the same time, it has a strong IP 68 level protection capability, which can be applied to multi-terrain all-weather, regardless of the storm, mountain forest and swamp environment, and interprets the brand mission for the harsh environment.
The Fenix AER-06s is a revolutionary weapon electronic accessory control device, with which the GL19R hanging light can be applied to rifle weapons like a fish in water.