In recent years, Fenix has launched many excellent tactical flashlights with strong shape, compact size and strong performance. If PD36R is the king of performance in
tactical flashlights
, then PD36R pro makes the "king of performance" more professional. The
PD36R pro tactical flashlight
, a high-performance rechargeable tactical flashlight with compact size, high brightness and long-range performance, has improved its performance and brought you a new and innovative tactical experience.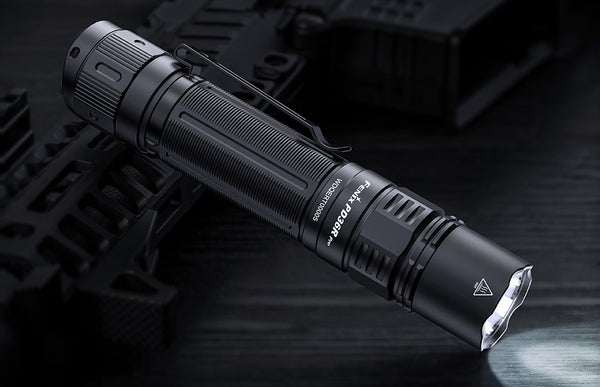 Strong light through the darkness
Fenix PD36R pro, as the professional version of PD36R, has a significant improvement in brightness and range compared with the previous generation: PD36R pro has a maximum luminous flux of 2800 lumens and a maximum range of 380 meters, and its performance has been improved by 75% and 34% respectively. With it, it can be suppressed near and searched in a wide range. It can illuminate every dark road and corner, so that the vision is no longer limited.
PD36R pro is also equipped with Fenix's latest Fenix ARB-L21-5000 V2.0 large-capacity battery, which has strong power and stable performance, fully meeting the needs of duty, patrol, search and tactics.
Double tail according to design, single finger blind exercise
When performing tasks, the responsiveness of the tactical flashlight is very important. The PD36R pro is designed with a tactical double-tail button. The small button is a function switch. In any state, you can press it lightly to flash with one button. You can respond quickly and click to shift gears in the power-on state. The big button is a tactical switch, which lights up when touched lightly and lights up when pressed heavily. With 5-gear brightness design, the operation mode is simple, intuitive and quick response. In the dark, there is no pressure to do single-finger blind exercises.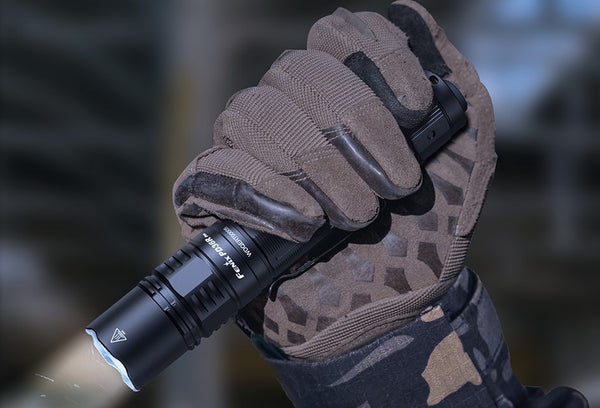 Continuation of the straight-tube smooth design, allowing you to hold with one hand without pressure, palm size, matching tactical operation techniques, fitting the operation lines of the human palm, comfortable grip, highlighting the tactical advantages.
In addition, the one-button flash mode of self-defense (making the target temporarily blind, dizzy, and get the first chance to fight) is suitable for a variety of application scenarios, and can respond quickly in activities such as patrol, outdoor search, tactical defense, Chuck check, camping and hiking, showing the tactical style.
The universal interface is free of encumbrance, and falling into water is also free of hindrance
PD36R pro adopts Type-c charging design, universal interface without encumbrance, adapts to the data lines of most mobile phones, headphones and other electronic products, and does not need to carry special charging lines to reduce the burden and travel neatly.
The protection level of the fuselage reaches IP68 level, but in order to be waterproof, we still spare no effort to support the internal waterproof and double protection while supporting the external waterproof in the charging interface.
In addition, the PD36R pro barrel tail is removable and compatible with a variety of accessories, such as Fenix AER-05 wire control switch, ALG-16 quick-release flashlight clip, ALG-00 flashlight clip, ALG-18 barrel clip, AOD-S V2.0 soft mask, etc., to unlock more tactical possibilities.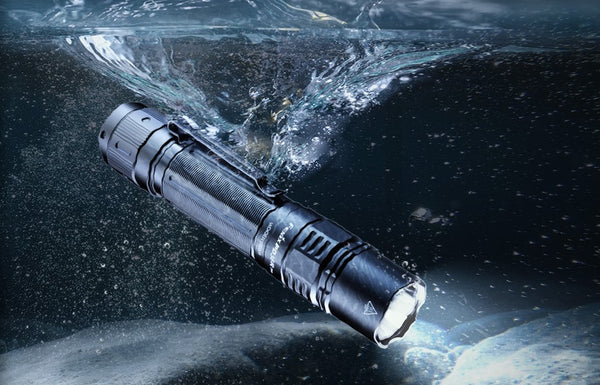 Professional performance, born for harsh environment
Fenix Laboratory has carefully developed two systems, advanced pulse frequency transmission system (APF system) and intelligent temperature control system, and applied the two systems to PD36R pro, which realizes intelligent temperature control and greatly reduces the hot degree of flashlight. Secondly, through the APF system, it breaks through the technical bottleneck of tactical flashlight, realizes the simultaneous transmission of working current and control signal with a single tube body, thoroughly breaks the restriction of tail switch on tactical flashlight, and truly realizes the tactical requirements and applications of small stature, high brightness and anti-interference.
The body is made of A6061-T6 aluminum alloy with high strength and oxidation resistance, which is resistant to pressure and fall. After several 1.5-meter drop tests, the flashlight can still work normally without fear of free drop during use. The shell adopts HAIII hard anodizing wear-resistant treatment, which is wear-resistant and corrosion-resistant. From rivers to mountains, the flashlight still lasts for a long time.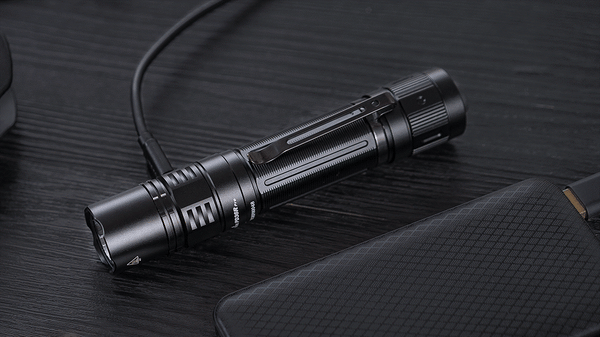 PD36R pro, a high-performance tactical flashlight with dazzling lighting effect, tactical double-tail press, durable dust-proof and waterproof, large-capacity and fast charging, helps clear all dark obstacles in the face of complex and changeable outdoor environment. The PD36R pro is enough to explore the night.