Night duty, whether it is patrol prevention and control, card inspection, or task search, a reliable and trustworthy service flashlight is always indispensable. However, in a complex service environment, we sometimes need to be seen by others in addition to seeing things. Recently,
Nextorch launched P83
, a service solution integrating warning light and white lighting.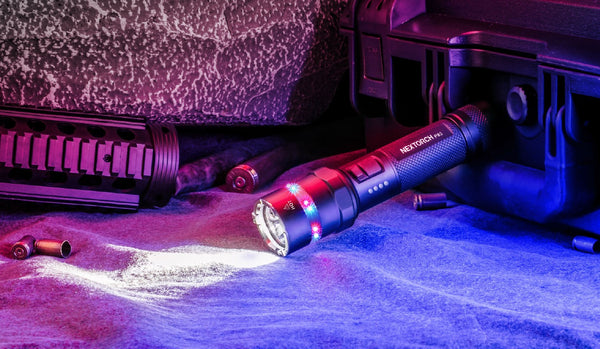 P83 is an extension of Nextorch classic service flashlight P80 series. In addition to inheriting the advantages of P80 series leather durability and outstanding performance,
Nextorch
designers have made a breakthrough attempt to add the warning function of shoulder lamp to meet the needs of service to see and be seen.
The innovation of P83 is that the integrated red and blue light source module is integrated in the tube head, which does not need to be divided into accessories, and can be seen around 360 degrees. It can choose white light and red and blue light to start at the same time, and you can choose red and blue strobe, red light, red flash, blue light, blue flash combination mode according to the change of environment or demand. Therefore, in addition to its main lighting function, it can also be used as a warning light, signal light, group identification light and other functions to expand more service purposes.
The P83 inherits all the features and benefits of the P80 series. Logic is clear, convenient control of the service side by double switch, one key flash rapid response to service/defense needs, high hardness ceramic beads broken window head attack and defense degree, 18650 large capacity lithium battery to provide long endurance, hidden Type-C direct charging makes charging convenient, LED power display at any time to grasp the power situation. Whether it is service work or daily life, it will be your reliable and trustworthy partner.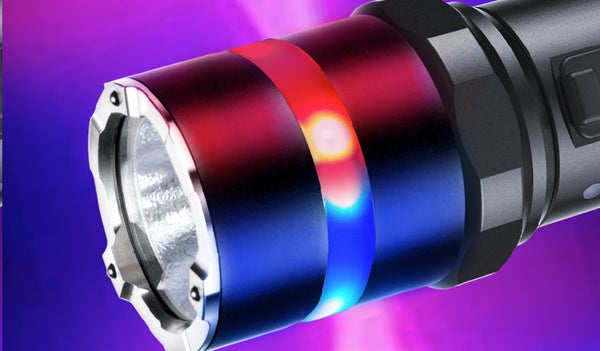 Integrated red and blue light source module
It can choose the appropriate mode according to the change of environment or demand, and expand more uses.
Instantaneous suppression of 1300 lumens of strong light, interference with sight and action, rapid response to service/defense needs, panic can also be triggered, win the first chance to win.
Ultra-high hardness, broken window attack head, attack and defense degree,
The ceramic bead window-breaking attack head, whose hardness is second only to diamond, can quickly break the window to escape, rescue and close defense.
Type-C direct charging
Concealed Type-C charging interface, keep the tube body compact, waterproof and dustproof, convenient endurance
LED power display, the power situation can be grasped at any time.
With 4 LED indicators, the remaining power and charging situation are clear at a glance.
Tailor-made optional accessories, free hands, one step faster
Optional V10 nylon flashlight sleeve,
Selected high-strength nylon, clamshell design, lightweight and durable, easy to carry,
Optional V51 tactical quick pull set,
One-handed tactical quick pull, quick response to combat, 360 ° rotatable, bottom light design, free hands
Aerospace aluminum is strong and reliable
2 meters anti-drop, 1 meter waterproof (IPX7), harsh environment, can also easily cope with.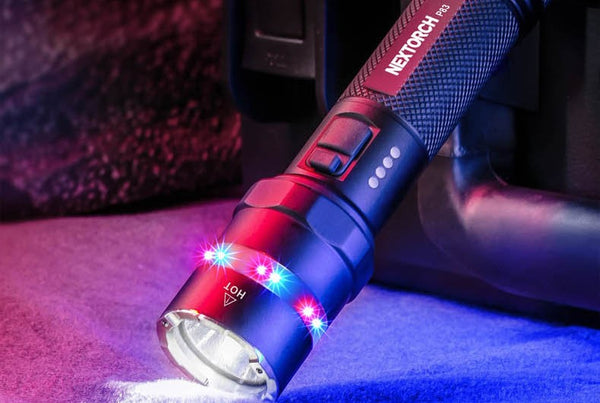 Specifications:
> Light Output: 1300 lumen
> Beam: 280m
> Anti-fall height: 2m
> Waterproof grade: IP X7, 1m
> Weight: approx. 177 G (without battery)
> Size: 155 mm (L) X 35 mm (D) X 28.5 mm (D)
> Light source: white LED/red LED S/blue LED S
> Tube body: aluminum, anodized hard
> Power supply: 1x18650
> Power: 13 W