The latest flashlight from NEXTORCH has a number of useful features which can prove invaluable for those working in security or law enforcement.
It retains a compact and pocket-able form factor, with a size of 160mm x 35mm x 28.5mm, and a weight of 164g (4.78oz) minus battery. The P84 offers a unique feature, in addition to the powerful maximum output of 3000 lumens from the main LED, is has an integrated Red and Blue LED with a full 360 degree coverage around the head of the flashlight.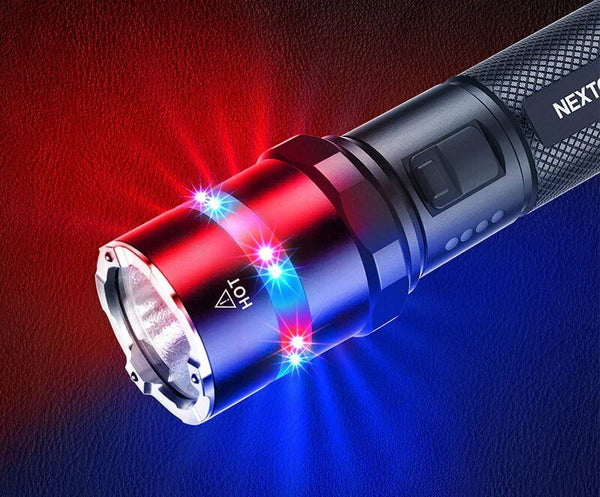 It is powered by a 4800mAh 21700 high capacity rechargeable battery, a type C charging port on the side for rapid charging. Dual switches aid ease of use and simple operation. A hardened ceramic strike bezel can break glass in an emergency, or be used for self defence. Waterproof to IPX7 (submersion up to 1 metre) for use in all kinds of weather conditions, and impact resistance tested to 2 metres.
3 Power Levels with a top output of 3000 lumens. Special Red/Blue LEDs for 360 degree signalling

The P84 main LED can output in Turbo (and strobe/momentary) up to 3000 lumens output, with a quoted range of 260 metres. A medium level offers 600 lumens, with a low rated to 36lm; useful for up close activities where less light power is required.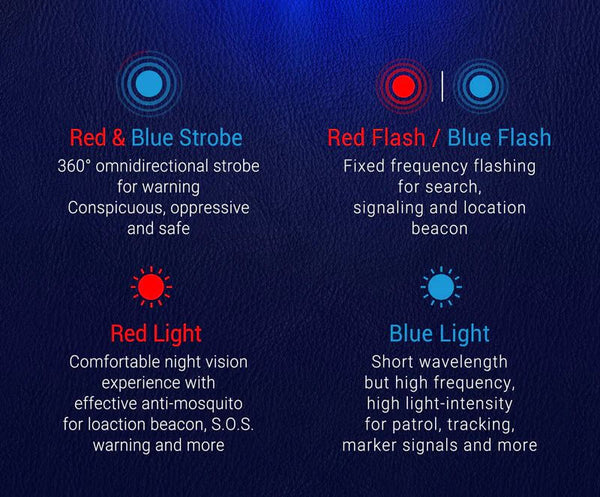 Red and Blue LEDs have both static and flashing modes. Red and Blue can be used in combination for Strobe/Flashing modes, useful for signalling or warnings. In addition to these 2 flashing modes, the Red and Blue LEDs can be used on their own. This can benefit night sight where normal light can degrade low light vision, or when a more discreet light is required which won't attract attention. Both Red and Blue outputs are 2 lumens, and cover the entire circumference of the head on the flashlight.
Charging is via a covered Type C USB port, this design protects the port from dirt and damage. The rotating head also means that there is no port cover to get damaged or pulled off. A 4 stage battery level indicator on the flashlight side shows an accurate charge level, and turns red when battery life is critical. When the P84 is full charged, the 4 blue LEDs are static.
Body material is made from high strength heat treated aluminum, with a special strike bezel which has 3 raised points. These nano-ceramic points are second only to diamond in hardness. And can easily break through toughened glass if required.
Dual switches for intuitive and easy operation
Having 2 switches in different sizes makes using the P84 simple. The smaller top switch controls the strobe modes and the Red/Blue LEDs (including the flashing and static for both colors)
A larger bottom switch give you control of the main LED and power levels.
Splitting the switches makes for an easier and more intuitive access to the main power output, and the strobe modes/auxiliary colour LEDs. It also allows one step access to strobe, useful in an emergency.
The P84 is also compatible with two holsters, the V51 quick-draw, and the V10, which is made from nylon. Both are excellent options to enhance the carry ability of the P84.
NEXTORCH P84 Key Features
3 Power Levels with a Maximum output of 3000 lumens and 260 metres throw
360 degree Red & Blue LEDs, for signalling (static and flashing)
Ideal for law enforcement or security
Hardened nano-ceramic strike bezel for self defence/emergency glass breaker
IPX7 water resistance with a drop proof rating of 2 metres
Dual switches for direct and easy operation, and quick access to strobe
Type C charging port, with twist head to protect the port
High capacity 4800mAh 21700 rechargeable Li-ion battery with up to 60 hours run time
4 Stage Battery level indicator