In this bundle from Olight you can get the Olantern Classic Mini and a useful tactical tripod to mount it on, further enhancing the usefulness of this tiny light. Or with the i mini 2 flashlight or i3E AAA powered keychain light.
For the Olantern Classic it's available in various colors including, black, forest green, vintage copper for the retro inspired look and feel.
Featuring a range from 5 lumens up to 300 lumens the Classic Mini also have various modes including an orange and warm white output with a 360 degree light output for smooth and even light source, useful for not just camping but possibly work activities too.
Olight are using their easy to use rotary dial for quick operation, and the lantern also features a lock out mode too.
A built in rechargeable 4500mAh battery can power the lantern for up to 60 hours, charging is via the type C charging port and you can also use it as a power bank for emergency charging of phones or other devices.
Metal handle and body materials for durability and a carabiner clip on top for securely fitting the light. And it features a ¼" tripod thread for positioning the light on the (optional) tactical tripod.
It's rated to IPX5 for use in all types of weather, impact tested to 0.8m, and is a very compact in size of just 110mm x 123.5mm, with a weight of 415g (14.64oz).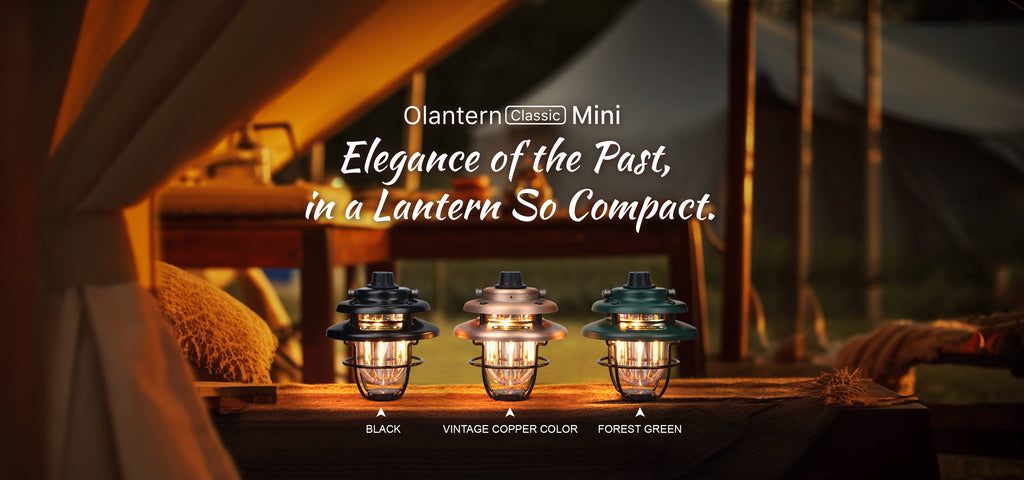 Up to 300 lumens output, with stepless dimming with rotary control switches
Olight have incorporated multiple light modes into the Olantern Classic, including power range that goes from 5 lumens up to 300 lumens. In addition to this users have a choice of light from warm  white LED, to a much warmer more comfortable orange (and well suited to camping particularly near to bed time), lower kelvin output. Range is up to 20 metres diameter (normal warm white 300 lumens).
Color temperature varies from the normal warm white from 5000-5500K which is near to daylight.The Orange light is rated to 2000 – 2100K, power levels are a little lower with 100 lumens top output down to 5 lumens.
Switching modes has a vibration feedback too helping users feel when they are moving through the various settings.
Battery level indicator shows when turning on the light (green/red/red flashing) giving you accurate information on the capacity left. With USB C charging  (5 hours from flat to full), with charge indicators showing the status (red charging, green finished).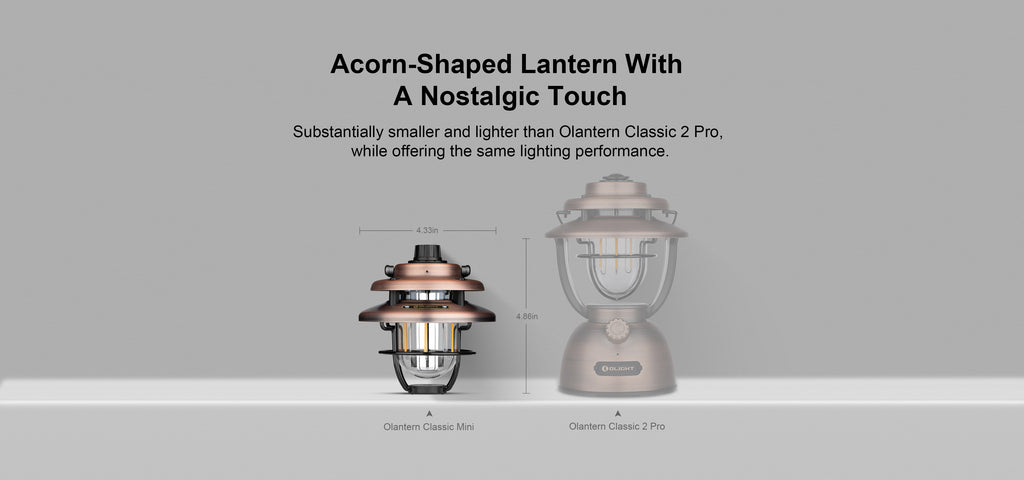 Olantern Classic Mini Key Features:
> Up to 300 lumens output (range of 20 metres) with variable power control
> Choice of normal warm white or orange light modes (5000-5500K or 2000-2100K)
> Choice of colors: black, forest green, vintage copper
> High capacity rechargeable Li-ion battery (4500mAh)
> Rotary dial UI operation with vibration feedback
> Multi level battery and charge LED indicators
> Type C charging port with power bank function
> Quick charging 5 hours from flat to full
> Compact size: 110mm x 123.5mm, with a weight of 415g (14.64oz)
> Drop tested to 0.8 metres
> IPX5 weather proof rated with metal body and handle