OLIGHT Warrior series strongly launches ALL-new
Warrior 3S
, which is available in classic black/titanium gray (limited edition). It is an enhanced version of the Warrior 3 straight-tube dual-button
tactical flashlight
, giving you a new experience, bringing a strong sense of power and security.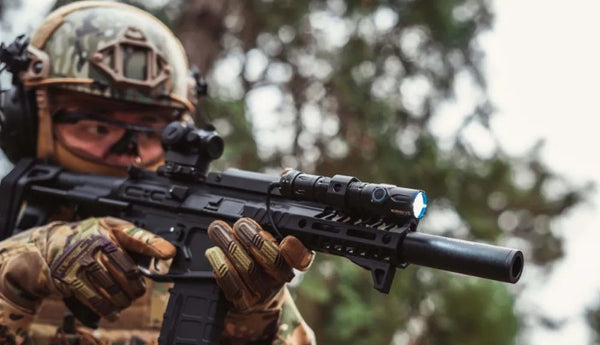 Upgrade 1: Add light sensor
The head of Warrior 3S is implanted with a light sensor. When the light is turned on to highlight/extremely bright/flash gear, it will automatically downshift in case of occlusion, which will provide active safety protection to avoid high temperature hazards caused by strong light. When it is continuously blocked for 1 minute, it will automatically shut down.
Actively turn off the function of blocking downshift: double click (or triple click) the side button within 5S of blocking downshift when the machine is turned on for a long time, and the light-sensitive downshift function will be turned off; The light-sensitive downshift function can be restored by turning off the machine.
Upgrade 2: New design of attack head
Warrior 3S uses PVD (vacuum plating process) to treat the stainless steel attack head and redesign it. The end face is smoother, which can avoid puncturing clothes. It is more reassuring to put it in the pocket and carry it in the backpack when traveling outdoors.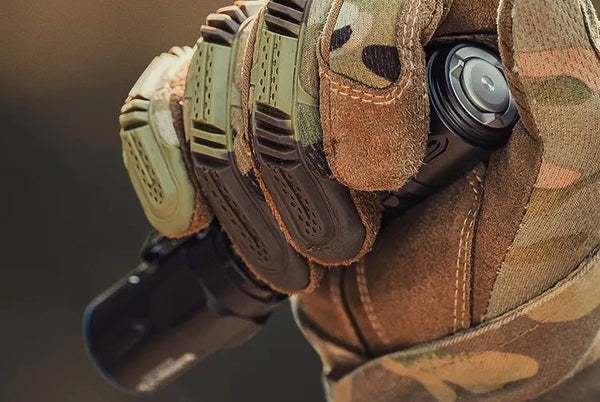 Common features (With Warrior 3):
Highlight and long range irradiation
The flashlight is equipped with a high light efficiency Luminus SFT-70X-W cool white LED and a TIR lens to output a bright beam, with a maximum output of 2300 lumens and a range of 300 meters.
Side key multi-gear output
Head side keys can be controlled independently, multi-gear output, and equipped with gear memory function, lock key and unlock function, daily operation is fast and convenient, which can meet multi-scene lighting.
Stainless steel key pressing ring (blue) PVD processing, instrument panel indicator on both sides of the key, intuitive display of output brightness gear and battery remaining power, so that users can grasp the brightness and power situation at any time.
Classic Tactical Tail Button
The tail part follows the design of anti-short circuit false trigger circuit, so that users can use it more confidently. The tail button supports two-level operation of light press and heavy press, and one button can light up the flash or extremely bright.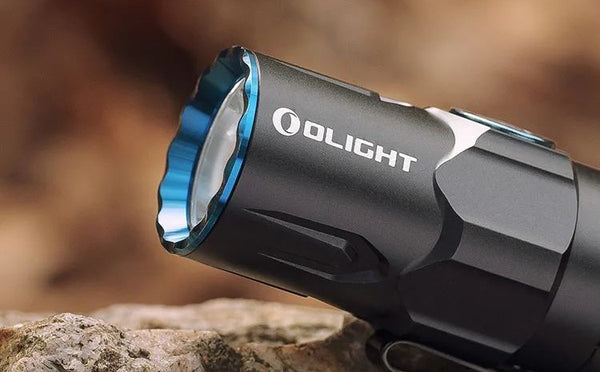 Endurance is strong
Built-in customized 5000mAh 21700 rechargeable lithium battery has high output efficiency and strong endurance, with a maximum endurance of 55 days (moonlight, about 1 lumen). The flashlight is equipped with a standard MCC3 magnetic charging cable, which can be connected as soon as you lean on it. The charging current can reach 2A, which is convenient and fast.
Optional Double Rat Tail
Warrior 3S can not only be used as a handheld tactical flashlight, but also as a tactical light. It can be used with double buttons and a wire-controlled mouse tail with a lock. The wire control mouse tail is locked as soon as it is pushed, and the button has two positions of LO/HI, which can quickly switch the two positions of medium bright/extremely bright, or one key extremely bright/one key flash.
Aircraft-grade materials are preferred
The fuselage is an aircraft-grade aluminum alloy shell with three-level hard oxidation on the surface, which is firm and wear-resistant. It also has a drop resistance of 1.5m and waterproof IPX8, which is enough to withstand the complex outdoor environment.
Warrior 3s incarnates as a dark warrior, with undiminished strength and upgraded protection. Whether it is tactical defense in emergencies (cars, homes, streets, alleys), or daily duty, outdoor lighting, etc., it can be handled with ease and a sense of security!