Today, the flashlight has a history of more than 100 years. The light source of the flashlight has gone through three generations from tungsten filament bulb, inert gas bulb to light emitting diode. Even the white LED flashlight can be traced back to 1997 and has a history of 25 years. The introduction of white LED light source has undoubtedly injected new vitality into the
traditional flashlight
, but now the rise of white laser flashlight has once again subverted our understanding of the flashlight, which is called the next outlet of the flashlight. Let's talk about the PTL01 white laser flashlight released by TANK007.
Simply put, a white laser flashlight uses a blue laser to excite a yellow fluorescent material to form a broad spectrum of white light, which is much brighter than LEDs and the same as xenon lamps. White laser flashlight has high-intensity collimation characteristics, high light intensity, light gathering ability and long-range ability, which are many times stronger than traditional flashlights of the same volume. Because of its super light-gathering ability and almost no floodlight, the laser flashlight is essentially different from the traditional LED flashlight in design and use. When the white laser flashlight first came out, it was mainly used for tactical purposes, but now its application scenarios are more abundant, such as strong light suppression explosion, remote tracking, positioning, search, aiming and other precise tactical scenarios.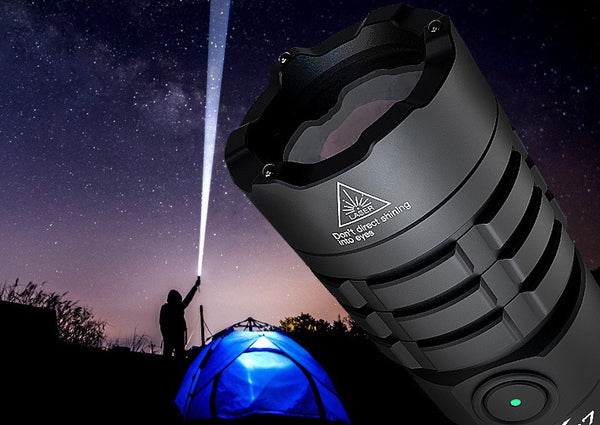 Features of TANK007 PTL01 White Laser Flashlight:
1. TANK007 PTL01 uses a white laser light source with a multi-coated lens. This white laser flashlight not only has a range of 1400 meters, but also has a brightness of 500 lumens and a broad-spectrum white light similar to the led spectrum, which not only retains the high collimation characteristics of laser, but also eliminates the harmfulness of monochromatic laser. PTL01 has a super focused beam, whether it is remote positioning, signal transmission, or precise target locking.
2. The strong performance of PTL01 white laser flashlight can not be separated from the high-density battery to provide it with lasting power. PTL01 is equipped with a TANK007 21700 rechargeable lithium battery with Type-C charging port and 5000 mAh large-capacity battery, which is enough to ensure the endurance of PTL01. The PTL01stays on for 8 hours in 60 lumen low-light mode.
3. PTL01 adopts the electronic key switch design of tactical tail key switch and neck side shift switch; Tactical rear key switch, one touch will light up, neck shift electronic key switch, single click highlight-medium-low light cycle shift, double click flash. The neck switch has the function of power indicator to remind the battery balance (the green light is 100% -75%, the green light is 75% -40%, the red light is 40% -10%, and the red light is less than 10%).
4. The shell of PTL01 is made of A6061-T6 aluminum alloy, and the surface is anodized according to the high-specification anodizing process, so that the PTL01 is as firm as a rock after the drop test of six drop surfaces of 1.2 meters. IP68 dustproof and waterproof level can ensure that PTL01 can prevent sand and dust from entering and is not afraid of rainy days and Chaoshan environment.
5, compatible with a variety of accessories, scene applications more possible. PTL01 white laser flashlight is equipped with a standard gun clip, which can be used in tactical scenarios. In addition, it can also be used with traffic sticks and simple flashlight clips to meet the needs of multi-scenario use.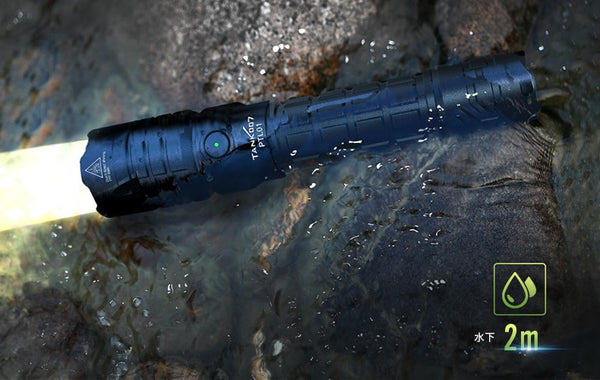 The above is the white laser flashlight PTL01 released by TANK007. For more information, please click here:
TANK007 PTL01
.