An
EDC flashlight
that is able to deliver a 12000 lumens output? Oh, you mean the newly released
Wuben X1!
The Wuben X1 is a compact EDC that has an incredible brightness, the max ever made by Wuben, of 12000 lumens, with a max throw of 303 meters. But the X1 is not a lighthouse, is a EDC light, measuring just 5.06*2.20*1.10 inches, for a weight of 379 grams, including 2 integrated 21700 batteries.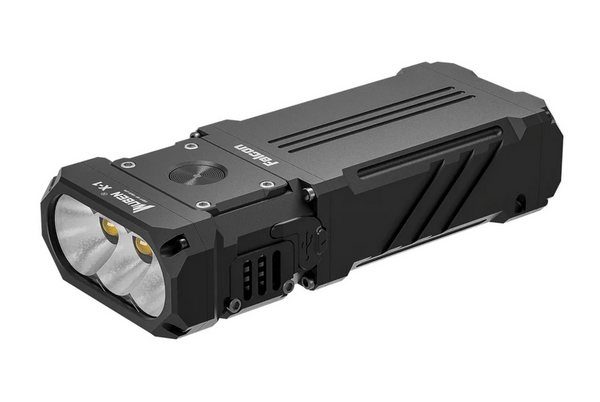 A great buy for flashlight enthusiasts, outdoors, hiking and biking, the Wuben X1 offers you a single button to easily scroll through 5 constant outputs, to deal with all kind of evenings, nights and darkness in general, making sure that when you need to illuminate powefully a large area with soft, diffused light, you have the right amount for you; as well as a stroge and a SOS mode.
Enjoy your 5 well speced levels, form the 20 lumens of eco mode (with a runtime of 220 hours) all the way up to 400 (14 hours), 1000 (5.5 hours), 2600 (2 hours) and 12000 lumens, with a max beam intensity of 23000 Cd.
Thanks to the 3 CERR 70.2 6000K LED emitters, the X1 is able to outperform its competition with an astonishingly bright light of
12000 lumens
, and to deal with the heat dissipation challenges, the X-1 has a temperature control system built in, as well as a high speed fan blows cold hair on the heat sinking elements of the light, greatly improving the process of heat dissipation, avoiding annoyhing changes in brighness... It's as if the power of the sun and the power of the wind combined to give you the X-1.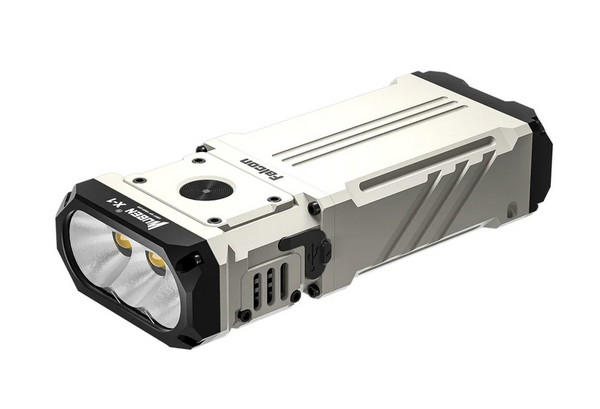 The Wuben X1 is also easily and fastly recharged, due to the USB-C port that allows to charge the integrated batteries in 2 hours, thanks to the power delivery charging current adopted by Wuben.Rugged in construction and Waterproof to the IP55 standard, the X1 is a reliable and powerful companion for your outdoor activities.
Get your X-1 today, and choose between two versions, the black anodised aluminum, and one that mixes well white (the body) and black (the bezel, the tailcap) elements.
Whichever you pick, your brightness expectations won't be let down!