In recent years, headlamps have become more and more popular. Whether you are a backpacker or an outdoor worker,
headlamps
are absolutely indispensable in your equipment bag. After all, headlamps can free your hands, such as WUBEN H1, which makes it easier and more convenient for us to use.
In case of emergencies, such as power failure, loss and failure, most of them will spare one or two more lamps. The EDC flashlight is still a good choice, and
Wuben's New E6 Small Steel Cannon Strong Flashlight
is just that, a mini version of the handheld lamp, designed for flashlight enthusiasts!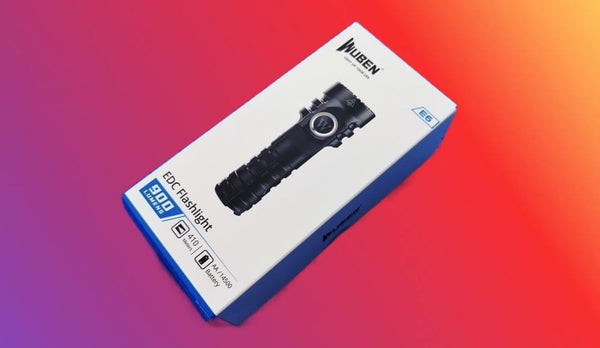 Six core advantages: exquisite and compact, sonorous and forceful!
> Maximum brightness 900 lumens
>
Maximum firing range 410 m
>
Five gears can be switched with one key
>
83mm length, 75g weight
>
Standard lithium battery/compatible AA battery
>
IP68 waterproof
900 lumens
Wuben E6 is made of Osram KW CSLPM1.TG lamp beads imported from Germany, with a peak brightness of 900 lumens. The power of this lamp bead is as high as 20w, but E6 only pushes less than half of the power, in order to achieve high enough light efficiency. The light efficiency of all lamp beads to nominal power and general power is different, and higher light efficiency means lower heat and better endurance.
410 meters
Effective range, break through the darkness, challenge yourself. Both far and near, clearly visible in the field of vision. Small core led with mirror reflective cup, the highest light intensity reached 42000 Candela, long-range distance reached an astonishing 410 meters, familiar with flashlight enthusiasts know that many 18650 flashlights in the head are only about 400 meters.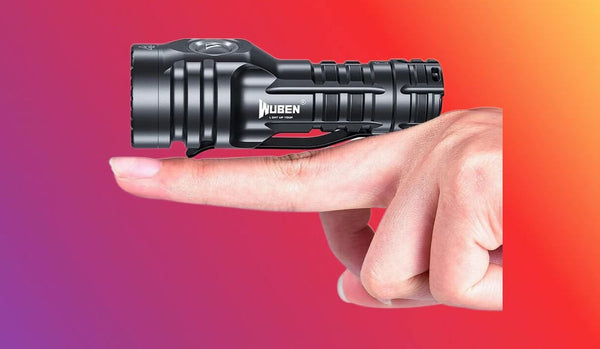 Five-gear mode, one key switch
Switch keys, feel clear, responsive operation. Provide intelligent brightness memory function, one key can return to the previous brightness after closing, and quickly enter the required lighting brightness (only support constant brightness).
The flashlight operation logic is reasonable, the machine can be switched on and off by clicking, the low, medium and high three-gear cycle can be realized by pressing the switch for a long time, and the appropriate gear can be selected and released, which is suitable for fast dimming.
High/medium/low
Regardless of the on/off state, as long as you double-click the switch, E6 can directly enter the flash mode to achieve the emergency function. Double-click again to switch between flash and SOS. Click shutdown to exit the flash mode. Long press does not respond.
Compact and portable, pack light
As an EDC flashlight, the Wuben E6 Small Steel Cannon stands out for its lightness. It is made of 6061 aviation grade aluminum alloy, which is wear-resistant and corrosion-resistant. The weight of the empty flashlight is only 50 grams, and the weight of the standard 14500 battery is only 75 grams, which is light and comfortable to hold.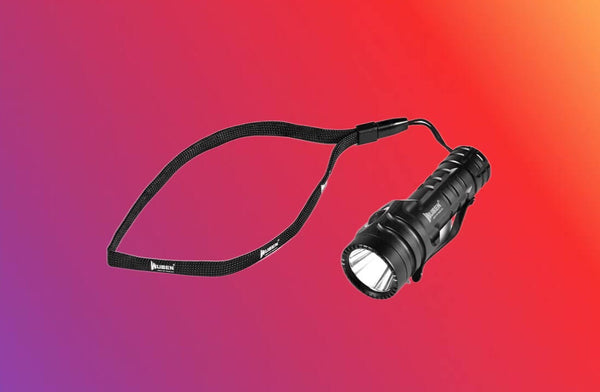 The length of the whole lamp is only 87mm, the diameter of the lamp holder is about 29mm, and the diameter of the tube body is 20mm, which is much smaller than most other flashlights driven by AA batteries of the same type. It feels like this in the hand, which is quite compact and portable. Unique appearance design, all the corners are smooth, and the oxide layer is in place.
The feature of the compact body is that it is portable, and the E6 also has a fixed stainless steel black-plated clip, which matches the strong style of the tube body. We can hang E6 on the backpack, pocket, hat brim and other positions with a clip, which is very convenient to use when needed.
Standard lithium battery/compatible AA battery
In the middle of the rubber cap, there is a W key transparent window of our service book, with a blue and red two-color power indicator inside, which displays the current battery power within 6 seconds of the brightness conversion.
The blue color is always bright, indicating that the electric quantity is greater than 90%; Flashing blue indicates that the battery is greater than 40%; Red is always on, indicating that the electric quantity is greater than 15%; Flashing red indicates that the battery is about to run out and needs to be replaced as soon as possible.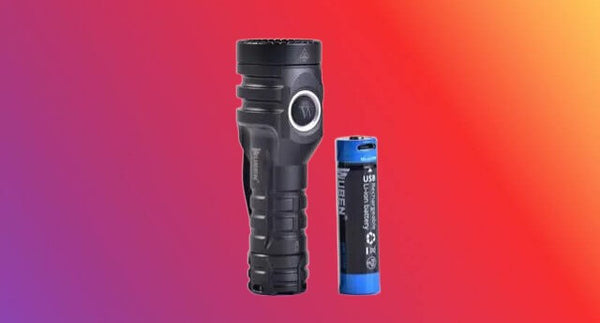 Multiple battery options, easy to access. It is also compatible with 14500 lithium batteries and AA batteries. When the battery is running out of power, it can be quickly obtained in nearby stores for emergency.
Through the Type-C data line for charging, there is no distinction between positive and negative directions, both sides can be charged, the transmission speed is faster, and the charging efficiency is higher. Recycling, energy saving and environmental protection.
IP68 rated waterproof
Excellent performance even in inclement weather.
Thick cylinder body, no direct filling opening, threaded seal ring, so that E6 has 1.5m anti-drop ability, as well as the highest dust-proof and waterproof grade of 3C products of IP68, whenever used, there is no need to worry about water damage.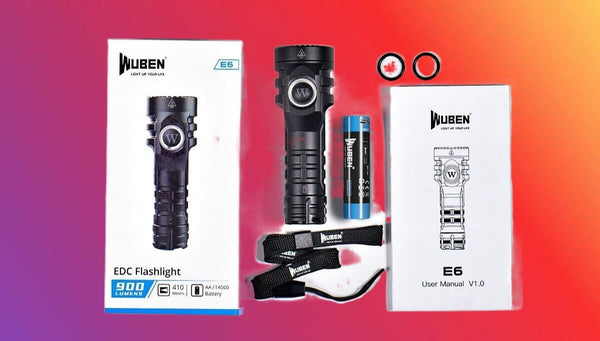 Product reference factor:
> High Power : Max output comes to 900 lumens;
> Beam distance : Wide beam throws up to 410m;
> Sturdy Material : 6061 T6 Aircraft-grade aluminum with anodized finish;
> LED: 1xKWCSLPM1.TG
> Impact Resistance: 1.5 Meters
> Level Waterproof: IP68 (2m underwater for 1h)
> Weight: 50g/1.76oz(without battery)|75g/2.54oz(with battery)
> Specifiation: 87mm x30mm|3.43inx1.18in(L xD)
"
WUBEN Lighting
" focuses on outdoor sports lighting brands, creating high-end and high-quality LED flashlights and other products.