It's a pity that you didn't get
IMALENT MS18
in time, but IMALENT Releases All-New
MS12 MINI High Power LED Flashlight
With 65000 Lumens, and MS12 mini has no rivals except IMALEnt MS18 with 100,000 lumens! the maximum lumen output can reach 65000 lumens, it will absolutely shock you visually, small but bright, you will be impressed by the brightness of this
powerful LED flashlight,
IMALENT MS12MINI is almost the best LED flashlight.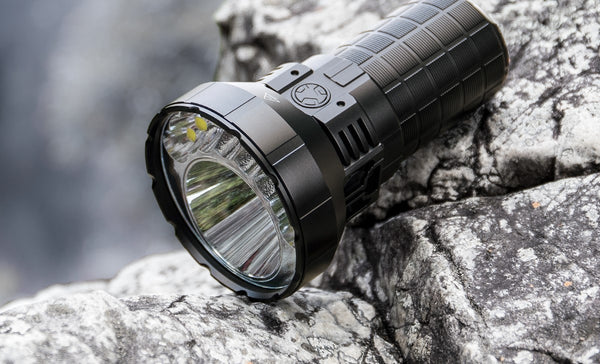 The amount of light emitted by the IMALENT MS12MINI flashlight is remarkable, and the wide beam angle and strobe light feature are ideal for search and rescue. This beautiful flashlight is made of durable, high-strength, oxidation-resistant aluminum. The MS12mini has a net weight of 788 grams and a barrel diameter of 5.6 centimeters.
MS12 mini,"Ambassador of light",utilizes 12 pieces of American CREE XHP70 2nd LEDs with a maximum output up to 65000LM and long range up to 1036 meters, MS12 mini will bring you absolute shock in the night.Built-in heat pipe radiator with excellent heat dissipation, and equipped with an inlet an outletfan silent,waterproof,heavy wind, which is a perfect combination of great energy and technology.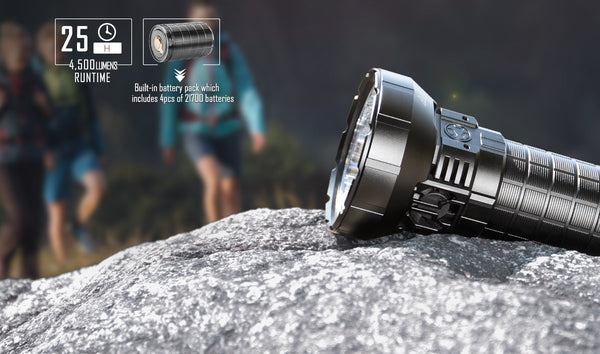 The MS12 mini features IMALENT's signature high-grade side pressure switch. This ergonomic design provides an unprecedented level of grip. Eight output levels ensure long runtimes with low or high output in any situation. The "hide strobe" feature keeps you safe by starting quickly at critical moments.Featuring six output levels plus a strobe.This LED flashlight is a must-have for your daily life, outdoor activities and repair work.
The IMALENT MS12MINI comes with a high drain battery pack. It has four built-in 21700 lithium batteries with a total capacity of 1600mAH and an energy value of 57.6 Wh. It features a battery indicator so you can be sure you always have enough blinding power. The battery lasts up to 31 hours. The MS12MINI is made of durable high-strength and oxidation-resistance aluminum and has 1m impact resistance, so you can be sure it'll last as your powerful flashlight.
Like the MS18, the battery pack has a 19 V round charging port, no USB direct charging function, of course, it does not support external discharge, and you must take a special charger when you go out.
Specifications:
> Product Code: MS12 mini
> LED Type: 12 pieces of American CREE XHP70 2nd(3nd) LEDs
> Batteries Required: Built-in high effective rechargeable li-ion battery pack ( includes 4 pieces 21700)
> Luminous Flux: Up To 65,000 Lumens
> Run Time: Up To 4h
> Intensity: 268600cd (Max.)
> Distance: 1036m (Max.)
> Turbo output : 65,000~13,000 Lumens;Run-time : 45s+40min
> High output : 25,000~13,000 Lumens;Run-time : 3min+43min
> Middle II output : 13,000 Lumens;Run-time : 48min
> Middle I output : 5000 Lumens;Run-time : 1h23min
> Middle low output : 3000 Lumens;Run-time : 2h50mini
> Low output : 1500Lumens;Run-time : 4h
> Size: 149mm (length)*83 mm (head diameter) *56mm (body diameter)
> Weight: 787g (battery included)
> Impact Resistance: 1m
> Waterproof: IPX68 standard waterproof( 2 meters submersible)