Shortly after the release of HM61R V2, another addition to the HM headlamp range from Fenix. This model features 4 power levels, for Spot and Flood beams this gives a wide range of levels making it suitable for distances or up close work
In spotlight mode Turbo can hit as high as 2700 lumens (with a range of 230 metres). The flood beam is rated to 500 lumens (high mode). In the lowest mode (flood read at 5 lumens) the Fenix can last as long as 400 hours, in part thanks to the high capacity 21700 battery (5000 mAh)
The HM71R is designed from the ground up to survive in a tough environment, and is very well suited for working or industrial use.
The headlamp also features a fast type C USB charging system which can charge from flat to full in around 4 hours.
Quick release system lets you attach/detach the headlamp quickly, turning into a flashlight in only a few seconds.
The same high quality Fenix perforated headband with reflective stripes as featured on their many models is here too. A magnetic base and high strength clip, makes it ideal to attach to metal surfaces which are magnetic, or using the clip you can put it onto a bag or jacket quickly and easily.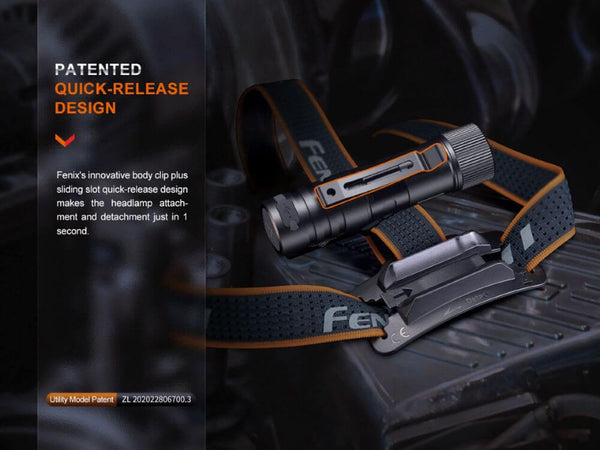 The lamp body is made from heat treated aluminum for strength, with the head section made from durable stainless steel. Rated to IP68 weather resistance it is also drop tested to 2 metres, and is engineered to be heat resistant from -35 to 45 degrees Celsius.
Size 106mm x 46mm x 45mm (4.17" x 1.81" x 1.77"), Weight 207.5g (7.32oz) including battery and headband
Dual Beam Spot & Floodlight, with 4 power levels for each
By using dual beams on the HM71R, Fenix have a headlamp that is perfectly suited for many different tasks, at distance or close up. Utilizing specially designed reflectors so that each light pattern gives a smooth and even beam, at low or high power levels.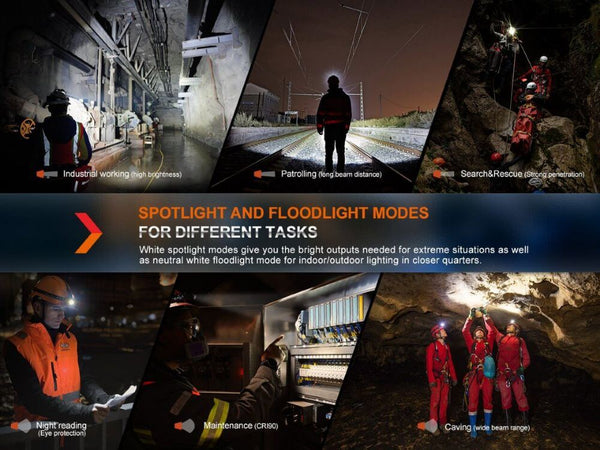 The spotlight beam can reach as far as 230 metres at 2700 lumens (Turbo mode), 3 more power levels 800/200 (with a range of 104m and 52m) and finally a low output of 50 lumens (27m range). Easily penetrating into the distance
The flood beam has a high of 500 lumens (47 metres range) and 3 more power levels including a very low output of 5 lumens. Run times can be up to 400 hours (flood 5 lumens), or 48 hours (spot 50 lumens). This makes is a superb choice for up close work, or when you need to light up a much wider area, or using it to see at longer ranges.
Large Thumb sized Switch for fast and simple operation
Fenix know that any working headlamp, it's likely users will be wearing gloves. They designed the large switch on the body with this in mind, it's very easy to find due to it's size, and also features a lock-out mode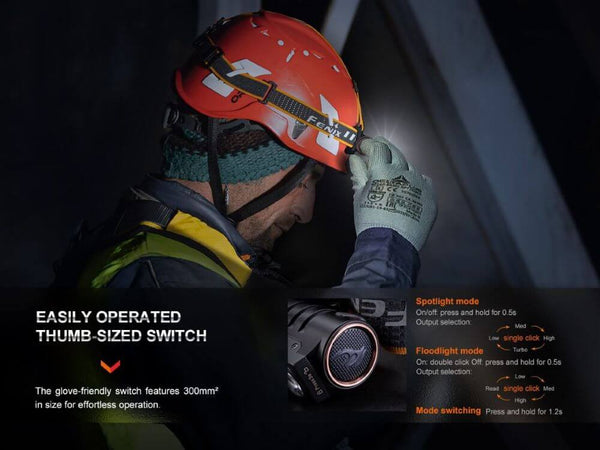 Fenix are using a type C charging port which is very commonly used and capable of fast charging. Using the included high capacity 21700 rechargeable battery (5000mAh), it can be brought up to full charge from flat in as little as 4 hours.
When the headlamp is turned on the battery indicator will show the status of the cell (it displays for 3 seconds); it's a 4 stage system with a combination of Green/Red, and also features a low battery warning, and a charge indicator too.
The HM71R is made from a combination of heat treated anodized aluminum, and stainless steel, to ensure many years of reliable operation, even in tough working environments. It's been tested to IP68 water resistance, drop tested (2 metres)
This rugged headlamp is a perfect companion for work, industrial, cave exploration, or emergency services.
Fenix HM71R V2.0 Key Features
Twin beam LED headlamp with both Spotlight (range), and Floodlight (wide/flood) beam patterns
4 Power levels for each beam output (spot/flood) with a top output of up to 2700 lumens (230m range) in Spot mode, and 500 lumens in flood mode.
Quick release headband system with reflective stripes
Size 106mm x 46mm x 45mm (4.17" x 1.81" x 1.77"), Weight 207.5g (7.32oz) including battery and headband
Up to 400 hours run time (Flood/moonlight mode 5 lumens)
Large thumb sized switch makes it easy to use even with gloves on
Lock out function for storage/transportation
Can be used in extreme temperatures: -35 degrees up to 45 degrees Celsius
Type C USB charging with fast charging from flat to full in 4 hours
High capacity 5000mAh 21700 battery with 4 stage power level indicator, and low battery warning
316 Stainless Steel & A6061-T6 Hardened Aluminum alloy body – drop tested to 2 metres with IPX68 weather resistance for up to 2 metres water submersion